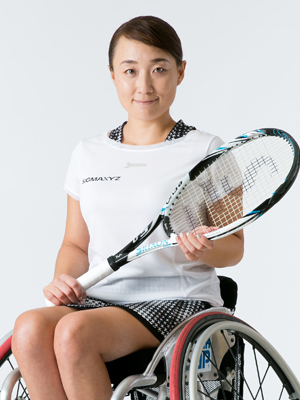 Miho Nijo
Date of birth

12/8/1980

Place of birth

Hokkaido

Sport

Wheelchair Tennis

Belongs to

SIGMAXYZ

Sponsor

TOTO, YYK AP, DAIKEN CORPORATION, HASHIMOTO SOGYO HOLDINGS CO., LTD., KAWAMURA Co., Ltd., DUNLOP SPORTS CO., LTD., OX ENGINEERING GROUP
Profile
Injured her spine while working as a carpenter at the age of 23. Began playing wheelchair tennis immediately after her injury, and has been establishing herself with her accomplishments at competitions worldwide. Placed 4th in doubles at the Rio de Janeiro Paralympic games.
She is active in promoting disabled sports in a variety of ways, including participating in the Sports of Heart 2016 opening ceremony, and a social contribution project headed by Nippon-Ham Fighters baseball player Hiromi Oka.
Received an honorary sports award from the Asahikawa Athletic Sports Association in 2016 and was later designated as an ambassador for the organization.