Media
From mass media to social media,
we will connect you
to the perfect sources.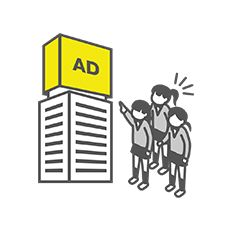 The emergence of new media such as niche media and social media
has pushed mass media aside, creating a dynamic environment with a entirely new personality. It is essential to develop a comprehensive media strategy that encompasses all of the various media sources. With our wealth of experience and vast network of media contacts, we can create a plan that provides your organization with the competitive edge.
Media Buying

We purchase media spots to increase our client`s brand and product recognition on TV, print and web.

Media Development

We are experts at coming up with new and creative media sources for advertising. For example, how about placing stickers on eggs to advertise other foods?

Advertisement Consulting

We advise and consult for the best advertising plan for your website and other owned media. We can help you establish competitive prices for third party purchasing, in addition to providing an overall workflow scheme. For some clients, this also includes OOH marketing.

Advertisement Planning

Combined with our expertise in PR, we consult and offer advertising solutions. We sell advertisement spots for different media, and provide comprehensive plans based on your budget and goals.

Transportation Advertising

We develop advertising plans for trains/buses/taxis (interior and exterior), train station platforms and corridors, bus stop billboards, and other locations with heavy commuter traffic. We aim to not just display information but to effectively influence potential customers.

Digital Signage

We propose comprehensive plans and outsource digital video production to be broadcast at point-of-sales, with the most effective location and timing/schedule.

Free Newspapers / Magazines

Free newspapers or magazines available at train and bus stations or commercial facilities are a highly efficient way to reach certain customers and markets. SSU can design and print attractive and eye-catching pamphlets, as well as recommend the most effective distribution strategy.