Digital
Digital communication is created
in response to the need to share.
Ideas are spread so that
extensive connections can be made.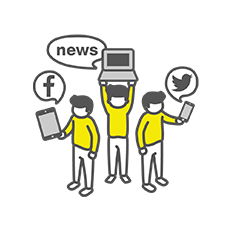 Social media continues to grow and evolve, but the underlying theme remains the same – it engages viewers, creates action, provokes emotion, and connects people. We aim to create a digital communications strategy that not only delivers a message, but also leaves an emotional impact.
Social Media

Maximizing social media such as Twitter, Instagram and Facebook, we plan promotions that directly communicate to a targeted audience. Taking advantage of the unique characteristics of each medium, our dedicated team can spread any concept or information strategically.

Owned Media

We will prepare a plan that takes full advantage of our client's owned media such as online magazines, blogs, web sites and digital signage.

Paid Media Coordination

Acting as the contact for your paid advertising, we will work closely with advertising agencies and online advertising representatives on your behalf, recommending a media plan that considers the various media sources involved in your overall strategy.

Clicks to Bricks (Online to Offline, O2O)

Clicks to Bricks, or Online to Offline customer traffic, aims to attract users online (clicks) and then direct them to "offline" physical stores, or bricks and mortar. We design effective plans through analysis of shopping trends and behavior.

Inbound Marketing

We target inbound audiences through online marketing plans that utilize various online media. The ultimate goal is to increase foreign visitors to Japan, for both business and pleasure.