Contributions to Society
Driven by empathy and compassion,
we are socially active and alert.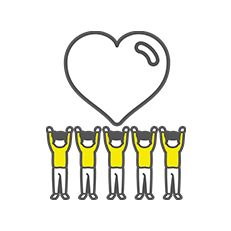 Social contribution is increasingly becoming an important part of a corporation's
obligation, and can directly impact an organization's overall image. Based on our own CSR, SSU has a rich history of proactively participating in social issues, and we are in the perfect position to assist our clients in their efforts to leave a positive impact on society.
Cause-Related Marketing

With SSU's vast connections in a variety of industries, we can design creative and unique marketing campaigns that involve socially beneficial activities. Looking to improve a corporation's image for the long haul, we will recommend both promotional and socially engaging activities that involve local and wide range issues.

Fundraising

Fundraising can be arranged to support NPOs through our close relationships with various corporations, influencers, public entities, and even government organizations.

Crowdfunding

SSU designs comprehensive online crowdfunding schemes to raise monetary contributions to fund a project or venture.

The workflow can be structured in line with PR activities for effective marketing.

Corporate Social Responsibility (CSR)

As a PR company, SSU practices CSR not only to contribute towards the improvement of its own corporate image, but to also create and support new social values. Our hope is that this kind of activity will help us to create a social buzz, stimulating public interest, and eventually leading to social action.

Creating Shared Value (CSV)

CSV is a relatively new concept based on the idea of creating value and profitability through social activity. Through innovative CSV marketing, SSU can help a corporation enhance its overall corporate image.