Sports Marketing
We are Sports Marketing Professionals -
prepared for the
constantly changing market,
particularly toward 2020.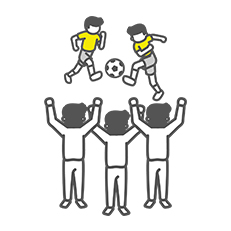 Sports are now not just competitionsbut they have become an indispensable part of our daily lives.
In 2020, Japan will be host to the Olympic Games, and sports in general will most likely play a much bigger role.
As sports marketing professionals, with our knowledge and expertise, we are eager to take advantage of the opportunity to not only make great contributions but to leave a lasting impression on the Japanese and global sports related business scene.
Sports Marketing

Utilizing athletes, athletic teams and their supporters, we can create a strategy that takes advantage of their visibility and influence for effective commercial marketing. SSU has a wealth of experience in carrying out successful promotions with sports content.

Sporting Events

Using sports contents, we organize events that maximize the value of the product or service by using the appeal of sports. With our strengths in PR and Web related activities, we can maximize the buzz about any event.

Sponsorships

For sports competitions and sports themed events, we can utilize SSU's wide network and recruit companies and organizations for sponsorship and support. We can carry out events that are effective for both the consumer and the corporation/organization.

Athlete Business Representation

In order for athletes to focus on their competition without concern, we manage corporate financial support as well as their business activities. As a pioneer in sports management as a PR company, we offer full support for athletes' to maximize their commercial and business value.

Sports Promotion

Using our PR background and extensive experience in sports business, we promote athletic events that create a big buzz and generate consumer interest.

Social Involvement

We support social involvement that is initiated by athletes. We cast both athletes that we represent as well as other athletes to provoke media and consumer attention.

Athlete's copyright management

We handle license agreements for our athletes' images, videos and name. With over 20 years experience in sports management, we propose pricing and support sales activities.

Athlete Management

We offer comprehensive management for our athletes to bring out their full potential. We handle branding and sponsorships, as well as acting as an agent for their overseas activity. With our experience and knowledge from the past 20 years, we are able to provide the most effective and reliable support for our athletes.

Content Development

We plan and develop publications, video and fan club contents with the image of our athletes. We can use the data from our research on consumer behavior and interest, combined with market trends for the sport to create a comprehensive content strategy.

Sport Consulting

Utilizing SSU's knowledge about sports, we can help increase recognition and visibility for a sport or event, stimulate sports related business and manage sporting events. We can also involve our athletes in the planning and development stages for a project.