Event
Let us deliver "sold-out" conditions
with huge crowds,
and venues reaching full capacity.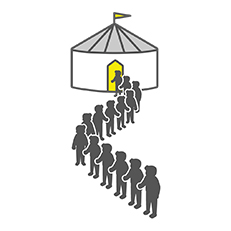 We plan events that not only draw a large audience, but also generate memorable experiences and lasting impressions, encouraging attendees to share their experiences and spread their enthusiasm.
Sampling Events

We will plan sampling events to give potential customers an opportunity to sample a product, and get them so excited about it that they will not only want to purchase it, but also recommend it to their friends.

Preliminary Product Experience

Events are organized for potential customers to touch, try, and test out products in order to stimulate their product awareness and pique their interest. Our experienced staff will propose the best venue and setting for the target audience.

Red Carpet Events

We produce red carpet events for film festivals, product previews, music festivals and brand launches. Our goal is to create the perfect celebrity red carpet walk for the media.

Concerts

We are equipped to organize large music events from overall planning and production, to contracting the big name performers needed to gather several thousand attendees. Through our vast connections, we can also plan tie-ups with various media sources for sales promotion and PR.

Seminars

We arrange both open and closed seminars for small groups of either the general public or specialized professionals to disseminate information and educate attendees about a specific product or topic. The ultimate goal – to generate PR and create a buzz.

Demonstrations

Through demonstrations, we relay detailed information about the quality and functions of a specific product or service in order to stimulate the consumer's purchasing instincts. Based on the PDCA (Shewhart/Deming) cycle, we arrange and educate event staff, moderate the event, spread information through PR activities, and conduct event reviews to consider the next course of action.

Product Launch

Introducing a new service or product? We can produce and execute a launch event for the media and/or Influencers and KOL that is consistent with the client's image and message. We will deliver an event that carries a strong and lasting impact, while also conveying the company's mission.

Exhibitions

We organize exhibitions to showcase products, services, and skills to the public in order to increase awareness and understanding, and to strategically promote sales. We can also formulate a project proposal to create a large buzz through PR and web activities.

Receptions & Parties

We organize receptions to celebrate the opening of new stores and product/service launches, and invite members of the media and influencers to maximize visibility and excitement. SSU has successfully generated publicity for large shopping malls, new brand launches, restaurant openings, and new products/services for both domestic and international clients. We specialize in working with companies that are looking to enter into or expand in the Japanese market.

Tasting Events

We organize food and drink tasting events for members of the media, influencers, celebrities, and even bloggers to generate publicity for restaurants, cafes, bakeries, as well as food and beverage distributors.

We also disseminate information about updated menus or new menu items.

Face to Face Marketing

We are in a position to plan and execute events that involve face-to-face exposure not only for product and service promotion, but also to boost social awareness in support of non-profit organizations and volunteer programs. SSU is also equipped to handle long-term events. Let us show you how versatile we can be!