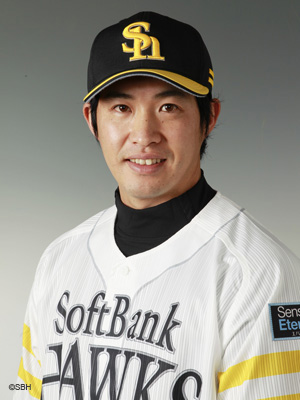 Ryota Igarashi
Ryota Igarashi
Professional baseball player (pitcher)
Date of Birth

28/5/1979

Height/Weight

180cm/91kg

Place of birth

Hokkaido

Blood type

A

Belongs to

Fukuoka SoftBank Hawks

Links
Profile
He is a top pitcher in Japanese baseball leagues. It became national news that he marked a 158 km/h speed in 3 continuous pitching which is the Japan record, at a game with the Hanshin Tigers in September 2004. He joined the Yakult Swallows in 1997. He shifted to closer in 2003 and got the title of the best relief ace. He became the guardian of the Yakult Swallows.
He had a surgery operation on his right elbow at the off-season break in 2006 and steadily recovered. He played in the opening game of the 2008 season as a closer for the first time for a year and half. In September he achieved a first win after his operation and reached a 157km/h speed. He showed his best performance.
With the FA right, he joined in the MLB New York Mets in the 2010 season. He made five wins. From 2012 onwards, he was transferred to several MLB teams including the Pittsburgh Pirates, the Toronto Blue Jays and the New York Yankees.
In 2013, he was transferred to the Fukuoka Softbank Hawks and returned to the Japan baseball leagues. He pitched in 51 games and made 3 wins, 3 losses, 12 saves and 11 holds in the 2013 season. In the next season, he pitched in 63 games and made 1 win, 3 losses, 2 saves and 44 holds with ERA 1.52. He contributed to the victory of the Fukuoka Softbank Hawks. Currently, he keeps getting noticed as a top relief ace in the leagues.