Campaign
With our ability to come up with
standout ideas,
we create and run innovative campaigns.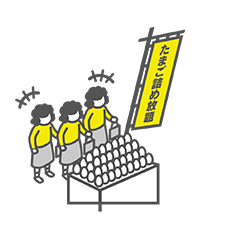 We have the inspiration and creativity to come up with ideas that capture
the heart of the consumer, and the experience and background necessary
to maintain the enthusiasm for the product or service. As evidenced by our portfolio of successful case studies, we are experts in running campaigns that stimulate the consumer at various levels.
Drawings and Coupons

Prize drawings and special coupons often help to entice customers to purchase products or services. Our expert staff will propose the most effective campaign scheme incorporating attractive prizes and coupons.

Open Campaigns

Focusing on the internet as the most efficient way to spread information and reach a wide audience, prize drawings are offered to enhance name and brand recognition.
We will provide ideas not only for the most attractive prizes, but also the overall campaign strategy.

On-Pack Premiums

For these campaigns, we attach a giveaway or a coupon to the product packaging. This strategy takes advantage of the retail sales channel, so it is crucial to choose the item or coupon that most appeals to the consumer in promoting the specific product or service.

Loyalty Programs

Loyalty programs, whether involving points that are redeemable for awards or future purchases, are an effective way to encourage consumers to continue to purchase a product or service.

We can propose the most attractive plan to stimulate customer loyalty.

Instant Win Campaigns

Instant Win campaigns are highly effective in getting consumers to purchase a product since they are able to find out if immediately if they've won something.

We propose comprehensive plans, from campaign schemes to in-store displays and web designs.

Campaign Operations

Not only are we in a position to propose a campaign plan, we can provide the staff and manpower necessary to actually run and oversee the entire process.