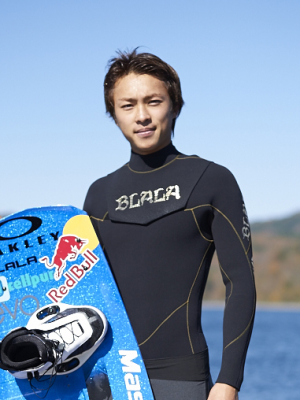 Shota Tezuka
Shota Tezuka
Pro wakeboarder
Date of birth

13/12/1993

Height

170cm

Place of birth

Shizuoka

Blood type

A

Belongs to

Red Bull Japan

Links
Profile
Despite his small body, he makes high air performances without fear. With his father's influence, he started wakeboarding when he was in the second year of primary school. In 2003, he participated in the WBA Kanto area competitions and won the first place of Jr.Boy. He also won the first place of the Japan Championships in the same year. In 2004 he was qualified for the World Championships in Orlando.
In 2005 he joined the amateur open tour and he was promoted to the first Japanese primary school professional wakeboarder. He was noticed as a genius. After being professional, his successes continued mainly in domestic competitions. In the 2007 World Series NISSAN X-TRAIL CUP in Odaiba, he was qualified to the final as the youngest wakeboarder on records. He also appears in media and gets noticed for other activities. In summer, he joined the domestic professional tour based in the Yamanaka Lake. In winter he carried his training in Orlando, Florida, the best place for wakeboarding. He won the first place in Wakeboard J-ROUND 2009 and got further attention. In the professional tour, he was second place in 2009 and he became the first, an achievement that was his long-sought goal in 2010, made by perfect wins in all competitions.
He moved to the US, the home of wakeboarding in 2011. He became the first Japanese wakeboarder who won the first place of Jr.pro men class. He shifted his class to Pro Men in 2012, and participated in the professional tour. His year result was a third position in the King Of Wake Pro Men. He is the hottest wakeboarder, and getting close to a world No.1 position.