Public Relations
We separate ourselves from
the majority by consistently
provoking emotions through
our PR work.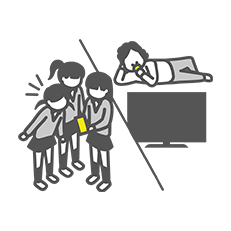 Creating a storyboard for product development, developing a thought provoking message, having close relationship with the media, and creating tie-up campaigns, etc. These are all a part of SSU's style. As new media emerges one after another and daily life habits change, our basic policy remains the same: engaging in PR activities that grip people's emotions. From the very beginning, "Let's create a buzz" has always been SSU's strategic policy.
Retainer Contract

We propose mid and long term PR activities that generate news that is in line with or slightly ahead of media trends. With SSU's planning skills and media connections, we propose various methods to efficiently promote products throughout the year while increasing media recognition.

Press Releases

Taking information that a corporation wants to convey, we transform it into a style that will capture the attention of the media, and release it with just the right timing.

Press Conferences

Our experienced group of specialists will organize the perfect event to garner the desired amount of exposure for that special announcement or occasion. We can utilize our vast network to gather just the right people.

PR Events

From our years of experience, we know that a bit of drama can maximize exposure and attention. Whether its by casting well known faces, choosing the perfect location and timing, or adding an element of surprise, we can provide comprehensive support from project planning to event production.

Symposiums

SSU can arrange a symposium program with guest speakers that enhance a corporation's PR strategy. Ideally, the symposium will also be effective in promoting the corporation's long term PR activities.

Media Relations

Our team of media specialists have established very close relationships with key players in the media, and with our background and network, we are in the perfect position to help you relay "the message" about the company itself, your product or service. The level of support and trust we have with our media contacts enables us to maximize the visibility for our clients.

Risk Management

No one wants to have to deal with emergencies, but it's always best to be prepared for the unexpected.
SSU will help you prepare for the unforeseen event, such as negative publicity, so that your organization can continue to operate with minimal impact on your workflow.

Crisis Management

In the event that an emergency situation has occurred, we can propose the optimal response plan to minimize damage.

Media Training

Our media training is mainly geared toward staff in an organization's PR department, and covers skills that are essential in situations that involve exposure in the media, whether it be press conferences, interviews, or appearances on a TV program. Our training staff will provide background information on the media culture in Japan, as well as verbal and body language presentation skills.

Publicity

A message can be transformed from "just another piece of information" to "an attention grabber" with the right amount of creativity and spice. Our staff will add their magic touch to your organization's message to ensure that it gets the maximum attention and exposure it deserves.

Advertorials

With our close relationships with various media companies, SSU can produce effective advertorials to present a client's product/service in magazines, newspapers, or on the web, all while preserving the client's perspective and mission.

Investor Relations (IR)

Utilizing our vast experience, we can organize PR activities and events that optimize shareholder and investor relations.

Reputation Management

With our strengths in online advertising and social media, we can maintain and enhance a client's reputation, its products and services; and if necessary, assist in recovery efforts as well.

Representative Office

SSU is in a position to act as the PR office/representative on your behalf. Our activities can range from acting as a liaison for PR inquiries to setting up press rooms.

Material Production

We are experts in creating and producing PR related materials including press releases, brochures, websites, blogs, e-magazines, press kits, product information packets, images and videos. In combining our creative design ideas with the client's product, service or message, we are able to significantly boost the impact in the media.

Buzz Marketing

Utilizing digital social media, we can help establish a positive image for products and services virally. Our goal is to plan projects that effectively create a buzz.

Public Affairs

Taking advantage of our well established relationship with public institutions, we can help promote a client's overall public image and disseminate information about their activities.

Municipal and Non-Profit Organizations

We have a long history of supporting local governments and non-profit organizations to promote their services and enhance public visibility.