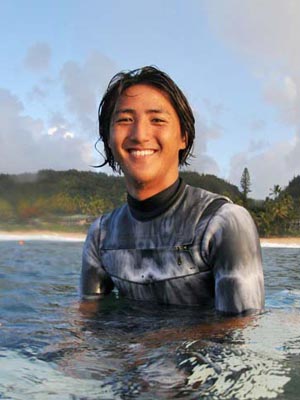 Takumi Nakamura
Takumi Nakamura
Professional Surfer
Date of birth

08/04/1996

Height

175cm

Place of birth

Nara

Belongs to

YU (surfboard), BILLABONG (wetsuit/apparel), NIXON (watch), VonZipper (Sunglasses), KOMUNITY (deck pad), Fuwax (wax), FUJIMOTO KIDO K.K., Shonan BMW(automotive)
Profile
Moved from Nara to Mie at a young age, and was exposed to surfers who frequented the parking lot operated by his parents. 

Began entering competitions at age 6, becoming serious at the sport in grade 3 when he began placing in the top 3. Turned professional at 16 after passing the JPSA professional test.
In 2015, Takumi was awarded the JPSA Shortboard Men's Ranking Japan Champion. He has recently moved his base overseas to participate in the World Qualifying Series (WQS) where a top 10 ranking will make him eligible for the World Championship Tour (WCT). He is also hoping to qualify to represent Japan at the 2020 Olympics in Tokyo.