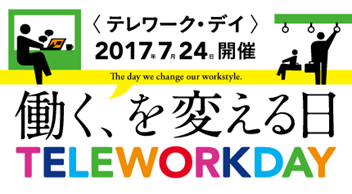 SUNNY SIDE UP, Inc. announced that it will be participating in the first ever Telework Day, a government initiated program to kick off on Monday, July 24, 2017.
On July 24, SSU will encourage its employees to either "telework (telecommute)" from home or a remote location, wherever they may choose. The goal of "Telework Day" is multifold – alleviate traffic congestion, introduce a different kind of work style, and also encourage employees to use new communication tools and information technology in conducting their work.
Traffic congestion in Japan, especially in the main cities, is a serious issue, and is of particular concern for the upcoming the Olympic and Paralympic Games Tokyo 2020, as the huge influx of people attending the various events will undoubtedly add to the already strained transportation network. The government hopes to be able to alleviate some of the confusion and congestion by instilling a new work style option, and to this end, "Telework Day" has been designated for July 24, the opening day of the Olympic and Paralympic Games Tokyo 2020.
Living up to its credo "let's have fun!", SSU has been at the forefront of endeavors targeted at increasing employee production and satisfaction over its 32 year history, and with its participation in "Telework Day", hopes to play an integral part in adding momentum to a new social movement. SSU has added its own creative twist to the program by developing 4 different plans based on employee input such as the standard "work from home or a remote location" plan to "connecting with clients via teleconference" plan to "working remotely from your extended vacation spot" plan. SSU will even cover costs for employees who choose to use alternate forms of transportation away from the city center.
■What is "Telework Day"?
"Telework Day" is a project aimed at expanding the concept of "telework" or working away from the office.  Commuter traffic congestion in Japan is quite serious, and is of special concern for the 2020 Tokyo Olympics. With the larger number of visitors expected during the Olympics focused in the highly populated city center, there is great potential for undue congestion. The government recognizes the potential "telework" has in reducing some of the strain on the overflowing transportation system, and July 24th has been designated as "Telework Day" for the next 3 years leading up to the 2020 Tokyo Olympics. The Internal Affairs and Communications Ministry is hoping that about 1,000 companies will take part in the project, in addition to government offices, with more companies being added every year until 2020.